Pro-choice rally at Belfast City Hall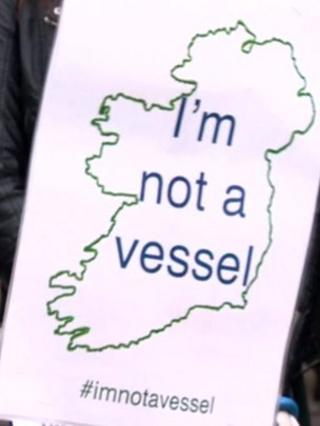 More than 100 abortion pro-choice activists have held a demonstration outside Belfast City Hall.
Organisers say they want the same abortion rights in Northern Ireland that women have in the rest of the UK.
The rally was organised by Alliance for Choice Belfast following the news that a teenage rape victim considered suicide after she was refused an abortion in the Republic of Ireland.
The baby was delivered at 24 weeks by Caesarean section and is being cared for in hospital.
The foreign national had been raped in another country and found out she was pregnant during immigration checks.
The laws covering abortion in Northern Ireland are the 1861 Offences against the Person Act, and the Criminal Justice Act 1945.
Terminations are only permitted to save a woman's life, or if there is a risk of permanent and serious damage to her mental or physical health.
'Legal hoops'
Kelly O'Dowd from Alliance for Choice said they were standing with women who have to "jump through legal hoops to access reproductive rights in Ireland".
"Northern Ireland is part of the United Kingdom, and as UK citizens we pay taxes so we should be able to access the same healthcare as the rest of our British sisters," she said.
"We feel the anti-choice group is entitled to their opinion and if you don't want an abortion, or don't need one, you don't have to access it.
"But we think it's wrong that you should put your moral ethics on other people."
In July, thousands of pro-life demonstrators took to the streets of Belfast city centre in an anti-abortion rally.