Bank of Scotland appeals over 'double bill' court ruling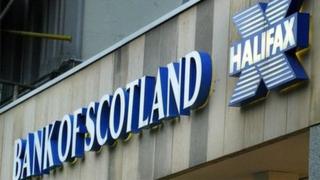 Bank of Scotland has said it will appeal against a Belfast High Court judgement that ruled it had unfairly double billed customers who fell behind on their mortgages.
In a scathing verdict, Master Ellison said the bank's behaviour had been "unconscionable".
The bank is a major mortgage lender in NI under the Halifax brand.
Its parent company, Lloyds Banking Group, said it would appeal on "a number of areas" in the ruling.
It said there were aspects of the judgement which "we do not consider to be representative of the way we manage the mortgages of customers who have entered arrears".
'Fictional arrears'
The case focused on the way the bank added arrears to the original mortgage borrowing.
That is a standard practice for tackling arrears, known as capitalisation, which has the effect of increasing borrowers' monthly repayments.
The judge ruled that once capitalisation had taken place, the mortgage should no longer be considered as in arrears.
However, the bank continued to treat such mortgages as in arrears and used that as the basis for bringing legal cases.
The judge said this meant borrowers had been held in fear and were being threatened with repossession, on account of an "erroneous and fictional arrears balance".
Implications
He said the bank's actions had distorted perceptions of affordability for struggling borrowers.
That was because they faced increased monthly payments to reflect the capitalised arrears and a demand for the immediate payment of those arrears.
The judge said this also distorted the true position in both the minds of those approached for advice and the courts.
He said this meant that "many" court decisions concerning suspended repossession orders had been made on "erroneous assumptions".
The ruling could have implications for thousands of Bank of Scotland mortgage holders across the United Kingdom.