Robert Ross: The NI man who started the White House fire 200 years ago
By Claire Graham
BBC News NI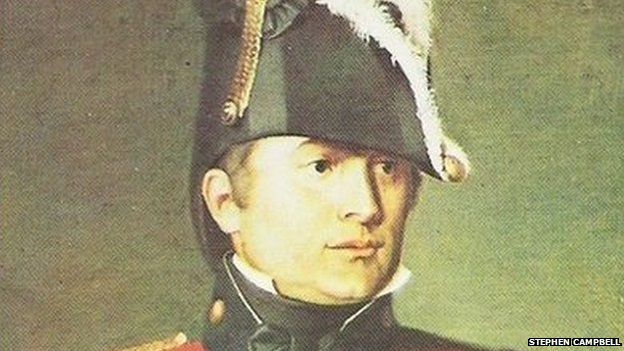 Sunday marks the 200th anniversary of the Burning of Washington, and the instrumental role played by a County Down man.
British Army Maj Gen Robert Ross, from Rostrevor, will forever be remembered as the man who burned down the White House.
The Burning of Washington took place in 1814, during the War of 1812 between British forces and the United States of America.
The major general led the troops who set alight public buildings including the Capitol, Washington Navy Yard and, most infamously, the President's Mansion.
One eyewitness testified to Ross personally being involved in the piling up of furniture and kindling for the White House, preparing to destroy the landmark.
It was the only time that a foreign power captured and occupied Washington.
It followed the bloody victory at the Battle of Bladensburg.
A triumphant Ross led his victorious combatants to the American capital.
Historian John McCavitt has found a number of sources that suggested the Americans had plotted revenge on Ross, and intended to start a blaze in County Down.
"I've come across references to a plan by America to send a ship to Rostrevor," he said.
"The Americans were going to exact revenge by burning Ross's family home and burning the village."
He was shot and killed in the Battle of Baltimore less than a month later.
His remains were shipped to Halifax, Nova Scotia, and embalmed in a cask of rum before being laid in the Old Burying Ground.
More than 2,700 miles away where the life of the major general began, a monument stands in his name.
In 1826, a granite obelisk was erected in Rostrevor, County Down, by the officers of Ross' American campaign troop and the gentry of County Down.
It was placed on the spot where Ross had intended to live out his retirement after the early nineteenth century wars.
He and his wife had planned to spend their twilight years overlooking Carlingford Lough, where the monument stands today.
In 2008, it was restored to its former glory at a cost of £250,000.
In September 2014, Maj Gen Ross's hometown is set to celebrate his role in helping to inspire the lyrics of the United States of America national anthem.
Following his capture of the White House, General Ross accepted an American lawyer, Francis Scott Key, onto his ship just before the Battle of Baltimore.
As commander of British troops in the US, he granted Key's request for the release of some American prisoners but Key was kept onboard his ship under guard until the battle was over.
Key watched the bombardment of Baltimore's Fort McHenry and, when he saw the American flag flying in the morning and realised that the Americans had prevailed, wrote the words of the Star Spangled Banner.
The event, Star Spangled Rostrevor, will mark the tangible links of the quiet village to the giant in American history.