Medal collection keeps WW1 memory alive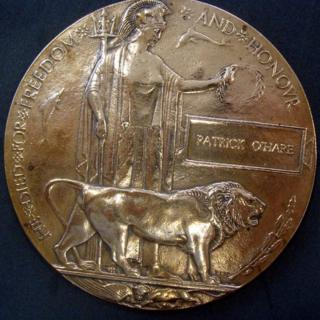 Every Twelfth of July, County Down man Paddy Gordon makes sure that a Catholic Mass is dedicated to his great uncle.
The date marks the anniversary that Patrick O'Hare was killed by a German shell in World War One in 1916.
Mr Gordon has retained a collection of his war medals and letters to ensure his memory is kept alive, and he has shared some of this memorabilia with BBC Radio Ulster's Talkback programme.
"He was born in 1893 and lived in a little townland called Dunbeg, a few miles from Ballynahinch," he said.
"Part of a Catholic family in a Protestant community, they were poor and worked on 10 acres of land to feed a family of six.
"When he was 21, he went off to war - it was probably just a job, as such."
He was one of about 250 people from the Ballynahinch area who signed up to fight. Forty eight of them never came home.
"He was killed on the same day as one of his colleagues, a Protestant lad called Thomas Gardiner, who was 25 years old," said Mr Gordon.
"A shell burst above them and they were literally blown to bits."
Memorial scroll
The families of every man and woman killed in the war received a memorial plaque and scroll.
The plaques, popularly known as the Dead Man's Penny or Death Penny, are made of bronze.
Difficulty in supplying metal and paper during wartime meant production of the plaques and scrolls did not begin until December 1918.
For several years after the war ended, more than one million plaques and scrolls were sent to soldiers' next-of-kin.
Recorded details for Patrick O'Hare show he was a private in 1st Battalion, Irish Guards.
He served in France and Flanders, and he was 23 years old when he was killed in action.
Mr Gordon said the family was informed of his death in a letter from the chaplain; correspondence that he has kept as part of his collection.
While he had asked his great uncle's siblings about him, Mr Gordon felt they had been reluctant to talk about what happened.
"The family were proud of him, but strange as Northern Ireland is, there was a little bit of reluctance for Catholics to say too much about being involved in the British army," he said.
"They were proud but didn't want to make it public."
This attitude changed several years ago, when research being done by one of his neighbours led Mr Gordon to dig out his collection.
"Stephen Fairley told me he'd been doing research on the war memorial and he'd found details on 46 of the names, but he was lost on two," he said.
"He couldn't find anything about Pat O'Hare, and someone told him that I might be able to help."
Thanks to this connection, Mr Gordon now has a treasured photograph of his great uncle's grave, and he hopes to make the journey to France later this year to see it for himself.
"It's very important to remember people like my great uncle - it's part of our history and part of who we are," he said.
"When I pass away, this will go to my nephew Aiden, who's a flight sergeant in the air force.
"We still get a Mass said for him on the Twelfth of July - I carry that on, and hopefully my nephews will continue to do this."
Patrick O'Hare's WW1 medals
Like many service personnel of World War One, Patrick O'Hare was entitled to the Victory Medal. It was awarded to all who received the 1914 Star or 1914-15 Star, and to most of those awarded the British War Medal.
He was also awarded the British War Medal. This was automatically awarded in the event of death on active service between 5 August 1914 and 11 November 1918.