Michael McKevitt will not get early release from prison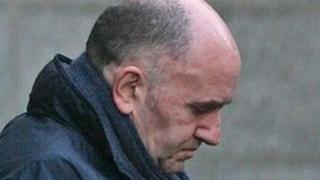 Real IRA leader Michael McKevitt will not be released early from prison, following a ruling by the Republic of Ireland's Supreme Court.
The 59-year-old had sought early release over his conviction for directing terrorism.
His lawyers argued a recent High Court decision meant he was entitled to a third remission on his 20-year sentence rather than a quarter.
But the Supreme Court has overturned the precedent cited by his legal team.
McKevitt, of Beech Park, Blackrock in County Louth, was convicted in 2003 and sentenced to 20 years in prison.
His sentence was backdated to 2001. He was the first person in the Republic of Ireland jailed for directing terrorism.
Mr Justice Bernard Barton had been due to give his ruling on an application for remission at the High Court in Dublin on Wednesday afternoon.
However, he told the court he was reserving his judgement until after the Supreme Court dealt with an appeal about another prisoner who was let out of jail early under good behaviour rules.
The application was opposed by the state.
In a landmark civil case in 2009, the High Court in Belfast ruled McKevitt and three other men were responsible for the 1998 Omagh bomb that killed 29 people and unborn twins.
The other three men were Liam Campbell, Colm Murphy and Seamus Daly.
McKevitt did not face criminal charges in relation to the Omagh bombing.