Elisabeth Moss: 'NI is beautiful' says Mad Men actress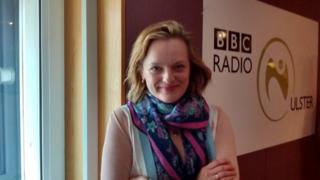 She has starred in one of television's most highly-acclaimed programmes, but recently Mad Men's Elisabeth Moss has been in Northern Ireland to film scenes for her latest movie.
She is best-known for her role as Peggy Olson in the American drama series, and now the 32-year-old has been filming scenes in Bangor, County Down, for the upcoming sci-fi movie High Rise.
The actress has been filming in Bangor since the middle of July and said she had been lucky to see a lot of the green scenery that Northern Ireland is so famous for.
Speaking on BBC Radio Ulster's Evening Extra programme on Friday, she said she had always wanted to visit the island of Ireland, but just never had the chance.
'Stunning'
"It's beautiful here. I've been to London quite a bit, but I've never made it over here before," she said.
"Maybe it's not a big deal to the people that live here, but for an American coming over it's just wonderful.
"The countryside is just stunning and it's so green - the air smells amazing. I'm really not used to it, so for me, it's been a lovely experience."
Post-Mad Men
The final half of the sixth and last season of Mad Men is set to air in 2015, but filming for the show has already wrapped.
Elisabeth Moss said she felt "very good" about the show's ending.
She said: "I don't think we're being cut short or the plug's being pulled too early, I think we've had a really good run."
The star said she finished filming her scenes in Bangor on Thursday, and is now set to begin work on another couple of film productions.
Asked if she would miss playing Peggy Olson, the actress said: "I do already. I loved playing her, she became a friend of mine and I will miss her.
"It will be weird not to know what happens to her next year!"