Castlereagh Street closes after hole discovered below traffic lane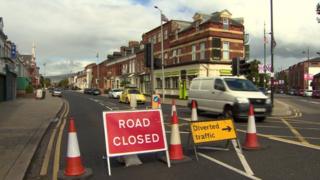 Part of a main road in east Belfast will be closed all weekend after a large void was found below a traffic lane.
A section of Castlereagh Street was closed between its junctions at Albertbridge Road and Beersbridge Road after it began to sink on Friday.
It follows the discovery of a similar problem on the Ravenhill Road in July.
The Department for Regional Development (DRD) said the road will remain completely closed until Sunday evening.
A DRD spokesperson said the department was continuing to investigate the cause of the void and said a "full repair" would be completed over the weekend.
Diversions will be signposted via Woodstock Road and Templemore Avenue.