Belfast: Ecstasy and cannabis worth £40,000 is seized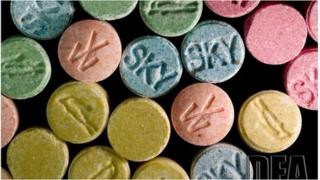 Ecstasy tablets and cannabis resin with an estimated value of £40,000 have been found on the outskirts of Belfast.
They were spotted lying on open ground at Aughnabrack Road, Ballyutoag, by a passer-by.
A PSNI inspector said: "We are committed to working with the local community to tackle the issue of drug supply and distribution.
"By removing these drugs from circulation we are reducing the harm that these substances cause."
Police have appealed for more information.