Sammy Brush: DUP councillor in Ballygawley 'targeted for 40th time'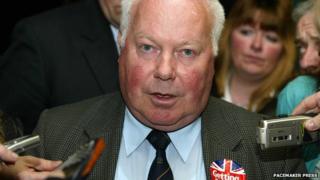 A DUP councillor in County Tyrone has had his car vandalised, one week after suffering what he said was the 39th attack on his property.
Councillor Sammy Brush's car was "physically moved" overnight and collided with another parked car in Ballygawley, police have said.
It is believed the attackers may have used a tractor to move the car.
Last week, the bonnet of his car was damaged in an overnight attack.
Lord Maurice Morrow, a DUP colleague, said it was the 40th attack in an "on-going sectarian campaign".
"From what can be established, a buckrake type of implement has been used, as there is grass lying about and the car has sustained spear marks.
"This took a degree of pre-planning and there is no way it was not witnessed."