Enniskillen stabbing accused 'highly volatile', say police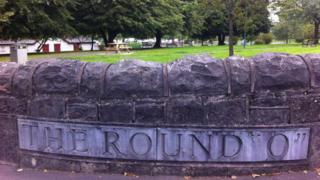 A 15-year-old boy has appeared before a youth court in Enniskillen after a 14-year-old was stabbed in the stomach.
The teenager, who cannot be named because of his age, is charged with causing grievous bodily harm and having a knife with intent.
The victim received two stab wounds during the attack at Round O Park at 23:50 BST on Sunday.
A detective said it was the PSNI's view the defendant was "highly volatile and dangerous". He was remanded in custody.
The police officer told the court the defendant was part of a group of youths, including the victim, who had been drinking near the Lakeland Forum leisure centre, in the County Fermanagh town, before moving to the park.
He outlined how witnesses said the accused had become angry and grabbed a girl by the hair, and when other youths intervened, he had produced a knife.
He said the 14-year-old victim was treated for two stab wounds; one was 5cm deep, the other injury was 2cm deep.
Seeking help
The policeman said the teenager had been on police bail at the time of the incident, having been questioned about an arson attack which destroyed a summerhouse at Florence Court on 15 August.
He had also been questioned about a burglary at an Orange Hall in Gransha and a file had been sent to the Public Prosecution Service, the court heard.
A defence solicitor said the teenager had been asking for help in relation to his emotional health, and was waiting for an appointment with a counsellor.
She said it was crucial that he received help as he had until now been "let down by the system".
She said his parents were willing for him to live at home and the teenager was prepared to wear an electronic tag.
The district judge questioned where the parental supervision was at the time of the alleged incident and questioned whether his parents were able to control him.
The judge said the injured boy had received significant injuries and the accused posed a risk of further offending and interfering with witnesses.