North Belfast: Sudanese families targeted in 'racially motivated' attacks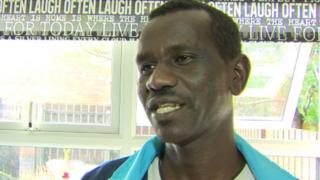 Police have said they are treating attacks in north Belfast on two families from Sudan as racially-motivated hate crimes.
A window was smashed in both houses on Glenrosa Link at about 02:30 BST on Thursday.
Children were asleep in both houses at the time of the attacks. No-one was hurt.
A father who lives in one of the houses said he did not know what would happen next.
"We don't have any choices because we came from an unsafe country. We're looking to live normally like anyone," said Mohammad Idris, who on Thursday was due to celebrate his son's seventh birthday.
"This is my first year to celebrate with my son after six years separation. But, unfortunately, we've found ourselves in these unsafe circumstances."