Secret report: Peter Robinson 'crafty' and John Hume like 'roulette table loser'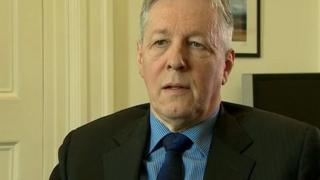 First Minister Peter Robinson was "crafty" and former SDLP leader John Hume like a loser at a roulette table, according to a previously confidential file from 1985.
The files, released by the Public Record Office (PRONI), feature a report of a conference of local politicians in the United States.
The meeting was attended by head of the civil service, Sir Ken Bloomfield.
His report was written for British Secretary of State Douglas Hurd.
The report was contained within files released as part of the phasing-in of a '20-year rule', which will replace the '30-year rule' for releasing files that has previously been in place.
In his report of the meeting at Airlie House, Virginia, Sir Ken described the DUP leader in unusually glowing terms.
"Three days exposure to Peter Robinson amply articulated what a forceful, articulate and crafty politician he is."
He contrasted the now First Minister's performance with that of SDLP representatives at the conference and particularly the party leader, John Hume.
He said: "John Hume is normally in his element in the United States, where he is widely regarded as occupying a position somewhere between Charles Stewart Parnell and Mother Teresa.
'Unconvincing ambiguity'
"On this occasion, he gave a chilling impression of political bankruptcy, rather like a man who has lost a fortune by backing a particular number consistently at the roulette table and continues to stare at that number even though he no longer has a stake to play."
According to Bloomfield, unionists had put the SDLP leader "under very skilful and sustained pressure" to engage in talks on an internal solution to the Northern Ireland problem, "even to the extent of throwing out a lifeline of willingness to recognise some kind of relevant interests on the part of the Irish Republic".
In the face of this pressure, Bloomfield wrote: "Hume took refuge in unconvincing ambiguity."
He added that the SDLP leader relied on texts from a recent report of the New Ireland Forum, which involved the Dublin parties and the SDLP, "as if they had been handed down on tablets of stone".
Bloomfield wrote that the discussions centred on issues such as "alienation, the symbolism of flags and emblems" and security, which he noted was the most chilling subject.
"Here, we had people speaking with passionate conviction and out of their own direct experience, but almost as if they inhabited different planets.
"Ken Maginnis (the Ulster Unionist security spokesman) reflected the harsh reality of exposed border farms and the near-genocidal character of attacks on isolated Protestant families," he wrote.
Seamus Mallon, the SDLP's security spokesman, "reflected another harsh reality of widespread stopping, questioning, detaining, house-searching and other activities fending a very high proportion of the Catholic working class".
The report indicates that Mallon went on to suggest the disbandment of the Ulster Defence Regiment (UDR) and the early release of paramilitary prisoners.