Arson suspected in Armagh house fire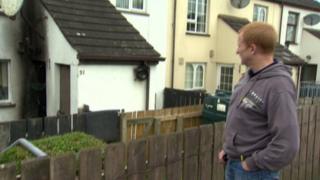 A man whose house was deliberately set on fire has described the attack as "attempted murder".
Louis O'Neill was asleep when the attack happened in Mullacreevie Park, Armagh at about 02:00 BST on Saturday.
Neighbours raised the alarm when they heard Mr O'Neill's dogs barking, and firefighters were able to limit the damage to the front of the property.
Mr O'Neill's wife, who was not in the house at the time, is due to give birth to their first child in five weeks.
"I have no grief with anybody," Mr O'Neill said.
"If someone had an issue with me I'd expect them to come to me and speak me about it, not do something like this.
"To me, at the end of the day, this is attempted murder."
A police officer said: "Enquiries are continuing, but at this stage police believe the fire was started deliberately,"
Police have appealed for anyone with information to contact them.