Iain Duncan Smith criticises Sinn Féin on welfare reform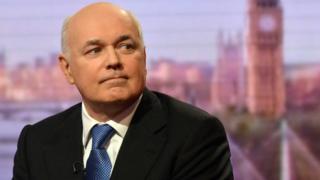 Work and Pensions Secretary Iain Duncan Smith has called on Sinn Féin to back the coalition government's plans to reform the welfare system.
Sinn Féin is currently refusing to endorse the plans, which has resulted in Westminster withdrawing money from Northern Ireland's block grant.
Mr Duncan Smith said the party needed to face up to its responsibilities.
He was responding to a question in the House of Commons from North Antrim MP Ian Paisley Jr, of the DUP.
"They can't have it all ways," Mr Duncan Smith said.
"If they get the welfare bill through, they will benefit from the support they will get, but they can't sit in limbo land.
"I support what he's just said, it's time for them to get on and do what an elected government needs to do."
In response, Sinn Féin's Conor Murphy said: "Iain Duncan Smith's welfare cuts in Britain have been an unmitigated disaster since their introduction in 2013.
"These cuts have been an attack on the most vulnerable people in society, taking money out of the pockets of low-paid workers, people with disabilities, lone parents and the poor.
"The responsible thing for all parties here to do is to stand up together against the Tories' attempt to impose further hardship on those who can least afford it."
Northern Ireland is being penalised by the Treasury for not endorsing welfare reforms passed by Westminster in February 2013.
The nationalist parties at Stormont, Sinn Féin and the SDLP, oppose the reforms.
Unionist parties have blamed budget pressures facing executive departments on Sinn Féin's unwillingness to implement the proposed welfare changes.