International Naturist Congress being held in Ireland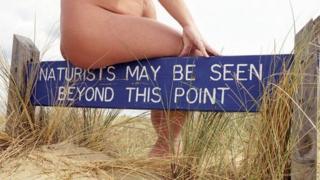 Pat Gallagher is preparing to welcome visitors to Ireland, but he has no plans to dress up for the occasion.
That's because Pat is the president of the Irish Naturist Association.
The association is set to host the biggest event in the history of Irish naturism.
The 34th International Naturist Congress will see delegates from across the globe descend on County Leitrim on 11 September.
"We will have people coming in from Brazil, from Canada, USA, New Zealand, Australia and all across Europe," Mr Gallagher said.
"It will be held in a local hotel, and in the conference area it will be clothing optional. People who want to strip off can do so; those who don't want to strip off needn't."
Mr Gallagher and his wife Mary have been naturists for most of their adult lives. They moved from Dublin to a remote part of County Roscommon so that they could have more freedom for their lifestyle.
They are not alone. There are about 300 members of the Irish Naturist Association, but Mr Gallagher estimates that thousands of Irish people go nude on European beaches every year.
In Ireland, naturists have to be more discreet, relying on a network of secluded coves and beaches to be able to be naked in public.
'Legitimate lifestyle'
Mr Gallagher said there was nothing sleazy or sexual about taking your clothes off in the open.
"We promote naturism as a legitimate lifestyle in Ireland, and try to have changes made in laws to enable people to enjoy the lifestyle," he said.
"In the naturist movement, it's almost clinical. You go on a beach where there's a couple of hundred people, when it comes to the beaches in Europe, and it's almost as if all of the people are dressed.
"You don't even notice anymore."
As a result of exposure to European beach culture, he thinks that attitudes to naturism are changing among the Irish public.
"We're just a little bit shy about showing off the body in public in Ireland, but I think there's a better acceptance that there are people like us out there."
"I think people are mainly worried about being seen by their neighbours."
The biennial congress takes place in the small village of Drumshanbo in County Leitrim, not far from Mr Gallagher's home, having been held in Croatia and Italy in recent years.
It is the first time it has been held in Ireland.
Delegates from more than 30 naturist associations worldwide will be attending, and the event is being supported by Failte Ireland.
While I was interviewing Mr Gallagher, he was proudly wearing his Irish Naturist Association t-shirt, but he later stripped off.
It was strange at first, but after a couple of minutes, I began to forget that he was wearing nothing but his sandals as he showed me round the grounds of his secluded home.
However, let's just say I was happy to let Pat face the bracing Irish summer unclothed alone.