Man arrested in England over UVF north Belfast murders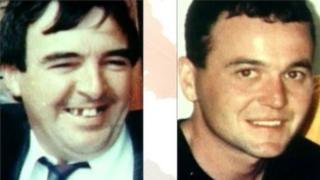 A man has been arrested in England as part of an investigation into loyalist paramilitary murders in north Belfast.
The 57-year-old is being questioned about the murder of 55-year-old Sean McParland in February 1994.
He is also being questioned over the murders of Gary Convie, 24, and Eamon Fox, 44, in May 1994.
He was arrested in the Newport Pagnell area with assistance from Thames Valley Police and is being questioned in southern England.
A property is also being searched in the area.
The arrest is part of Operation Stafford, an investigation into a series of murders and other serious crimes by the Ulster Volunteer Force in north Belfast
Mr Convie and Mr Fox were shot as they sat in their car at a building site in North Queen Street on 17 May 1994.
They were attacked while eating their lunch.
Mr McParland was shot in Skegoneill Avenue in February 1994 while babysitting. He died a week later.