Cody the dog: Two men on trial for setting fire to family pet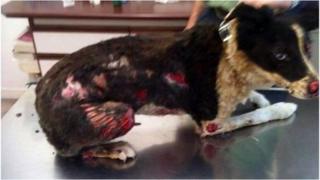 The trial of two men accused of setting fire to a family's pet dog in County Antrim has started at Belfast Crown Court.
The attack happened in August 2012 in the village of Maghaberry.
Cody a three-year-old collie had to be put to sleep a week after being doused in accelerant and set alight.
The accused are Jamie Downey, 23, from Chestnut Hall Avenue in Moira and Richard Stewart, 23, from Wellington Park in Moira..
They are both charged with causing unnecessary suffering to the border collie. They deny the charges.
'Distressing'
The prosecution said the two accused told "lie after lie'" about where they were on the Sunday morning the dog was attacked.
They added Mr Stewart and Mr Downey did a "circuit of Maghaberry village either to work off the effects of the party they were at the night before or to finish the drink they had with them".
The jury was also told by the prosecution that "for some reason they poured flammable liquid over the dog and set it alight".
The prosecution said witnesses placed two men near the house and were seen walking along a railway track towards the direction of a quarry with a black and white dog after 09:00 BST.
The hearing heard how not long after the dog's owners noticed Cody was missing the dog arrived back at the family home around 10:30 BST in a distressed state after being set alight.