Northern Ireland double-jobbing to continue for now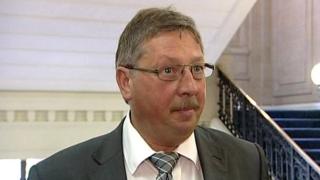 On the Nolan show on BBC Radio Ulster, Sammy Wilson confirmed he plans to stand again for the East Antrim Westminster seat at next year's election.
Given that earlier this year the NIO passed an act banning MPs double-jobbing, that means he'll have to leave Stormont, doesn't it?
That was the question Stephen Nolan put to the DUP politician who answered with the intriguing word "eventually".
So what does that mean? Called on to analyse Sammy Wilson's comments, I said I'd heard suggestions the double-jobbing ban wouldn't come into force until the assembly election due in 2016.
However, I also pointed out that the explanatory notes for the relevant law talk about MPs being automatically disqualified as MLAs, so I felt the issue needed to be clarified.
I have now got some clarity, courtesy of the NIO.
They explained that the section of the law banning double-jobbing comes into force" the first day after this act is passed on which the Northern Ireland Assembly is dissolved".
Barring an early election, the next Stormont dissolution should be in March 2016, ready for a fresh election in May 2016.
So Sammy Wilson, Gregory Campbell and Alasdair McDonnell - if they all choose to defend their Westminster seats and are re-elected - could continue to double-job until the assembly election of 2016.
If returned as MLAs, they would get eight days to make their minds up about which house they want to sit in.
The downside of holding on to a dual mandate for an extra year would be that critics might accuse the politicians of not taking on board those opinion polls that suggest the public don't like double jobbing,
However, the upside for a politician would be that it keeps options open.
We don't at this stage know how finely balanced the arithmetic will be at Westminster, and whether the DUP (or even the SDLP) might be in the mix when any deals are cut around the formation of the next UK government.
Nor do we know exactly when Peter Robinson might step down as DUP leader or first minister.
Given the tensions at Stormont, we can't be sure what state the mandatory coalition will be in next month, let alone by 2016.
So what should a politician pick - Stormont or Westminster? It looks like Sammy Wilson, Gregory Campbell and Alasdair McDonnell could - if they want - take an extra year and eight days to make up their minds.
Health job
One career path Sammy Wilson firmly ruled out on the Nolan show was replacing Edwin Poots as health minister.
We know that Jim Wells, the MLA previously named by Peter Robinson as minister in waiting, hasn't been approached.
After speculation that junior minister Jonathan Bell might be under consideration, one senior DUP figure told me he would "completely lack credibility" as a health minister.
No doubt Mr Bell would beg to differ, but with such an "aura of crisis" (to borrow Sammy Wilson's phrase) surrounding health, will Mr Robinson push ahead with the reshuffle he promised in 2011? Or might he be tempted to leave Edwin Poots in place?