Lost Dunluce town reveals plantation secrets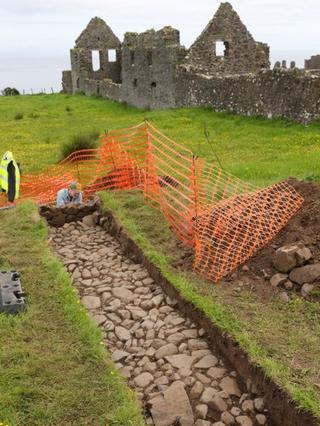 An archaeological dig in County Antrim is revealing the secrets of a town that has been buried for hundreds of years.
Its history is challenging the traditional narrative of Plantation history, dig leader Andrew Gault has said.
The Dunluce castle development project has been exploring a 17th Century town beside the ruins of the late-medieval castle.
The lost town has fascinated archaeologists because the settlement was untouched in the centuries after its decline.
The town was destroyed by fire during the Irish Rebellion of 1641/2, and has been buried under a foot (30cms) of earth since the 1680s.
"The archaeology of the original 17th Century town is exceptionally well-preserved", Mr Gault said, "We've effectively got a pristine plantation-era settlement here."
Flags flying
Dunluce castle has a history of treachery, violence and rebellion to rival TV drama Game of Thrones, which is partly filmed nearby.
Built around 1500, the castle was seized from MacQuillan Irish chieftains by the Scottish MacDonnell family in the 1550s. They created Dunluce town in 1608, bringing in Scottish citizens to populate the new settlement.
"This plantation-era Gaelic Scottish settlement is in contrast to the normal narrative of plantation Ulster seen as primarily an English enterprise," says Mr Gault.
Among the finds so far is a merchant's seal that would have been used to seal documents with wax.
The imagery on the seal appears to depict Dunluce castle with flags flying from the towers and Mr Gault hopes that the seal will reveal the name of one of the merchant families living in the town.
The well-preserved archaeology of the site is enabling many new lines of research into plantation-era buildings with the discovery of stone-built Scottish-style houses rather than the English style found west of the Bann
Catastrophic event
The dig found unexpected evidence of late-medieval settlement activity.
A metal belt buckle and a silver groat dating back to the 1550s were found in an area where buildings had been burnt.
Metal was a scarce commodity in the 16th Century, and would have been a status possession, according to Mr Gault.
"It is very unlikely that someone would have left such valuable objects behind suggesting that a sudden catastrophic event happened at some point in the late 15th Century."
The site is also of international importance, he said.
North American colonies such as Jamestown in Virginia, were established at the same time as the lost town and historians will eventually be able to compare Dunluce to other colonial plantation-era settlements.
The team is now planning a major excavation and conservation scheme to uncover more of the lost town.
The Dunluce castle development project is an initiative of the Northern Ireland Environment Agency supported by funding from the Heritage Lottery Fund.
The Dunluce dig, and others, will feature in a BBC NI programme Digging for Ireland, to be broadcast later this year.