Concern over Northern Ireland children's reading standards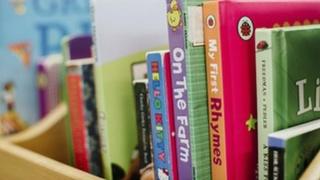 Northern Ireland is one of the most unequal places in Europe when it comes to children's reading levels, a report launched on Monday has claimed.
The report was compiled by a coalition of charities, teachers, parents and businesses called Read On. Get On.
It said the gap between the strongest and weakest readers was equivalent to six years of schooling.
The group has called for an urgent, concerted effort "from all corners of society" to deal with the issue.
According to the group, more than one in six pupils in Northern Ireland do not achieve the expected standard in literacy when leaving primary school.
It said it would support parents and teachers in having all 11-year-olds reading well by 2025.
Fergus Cooper of Save the Children said: "Our report highlights that children from the poorest households will do less well than their better off peers.
"Four out of ten children on free school meals who struggle to read, will also struggle to gain the educational opportunities, and are more likely to end up in low paid jobs trapped in a cycle of poverty."
Mr Cooper said new analysis in the report suggested that if the UK had, in recent decades, taken action to ensure that all children, regardless of background, were reading well at 11, then GDP (Gross Domestic Product) this year would have been boosted by £13.8bn.
"This equates to over £500 per household. Read On. Get On. seeks to mobilise civil society to support the reading mission and children's education," he said.
"Every child should have an equal chance to become a happy and confident reader by 11."
The report also said 1.5 million children across the UK would reach the age of 11 unable to read well by 2025 "unless urgent action is taken to tackle the reading crisis facing pupils".