PwC says NI economic recovery 'patchy and far from assured'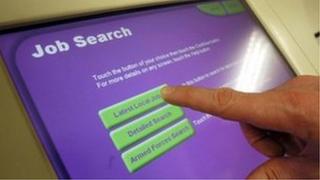 Northern Ireland's economic recovery is "patchy and far from assured", according to the latest analysis from PricewaterhouseCoopers (PwC).
It said the region's growth rate was the lowest in the UK, despite progress in the last two years.
Employment has risen by 20,000 in the 24 months to March 2014.
This has been driven by investment in business and financial services, as well as a recovery of some jobs lost in the manufacturing and retail sectors.
"There certainly is clear evidence of recovery," said PwC's chief economist Esmond Birnie.
"But it is more about slowly catching up on where we were in 2007, than demonstrating real growth of the kind being achieved by other regions outside London."
During the same two-year period, public sector employment rose by almost 1,800.
However, further austerity cuts could halt that trend.
Mr Birnie said reducing the dole queue was "camouflaging" problem areas.
"Wages are still lagging behind inflation, productivity is broadly static and around a dozen private sector companies account for the bulk of manufacturing exports," he added.
PwC forecasts that the local economy will grow by 2.2% in 2014.