John Stewart Bell street name bid rejected by Belfast council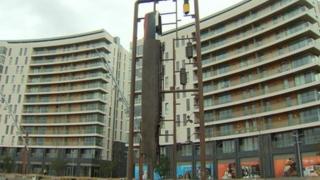 Belfast City Council has declined to name a street after one of Northern Ireland's most eminent scientists.
Belfast-born, John Stewart Bell who died in 1990, is regarded as one of the 20th Century's greatest physicists.
The council received an application to name a street in Titanic Quarter after Mr Bell.
However, the council rejected the proposal as it has "traditionally avoided using the names of people" when deciding on street names.
Only two streets in the city have been named after individuals since the 1960s: Prince Edward Park in 1962 and Prince Andrew Park in 1987.
Titanic Quarter Ltd had applied to name a currently unnamed street beside Belfast Metropolitan College as John Bell Crescent.
Bell was born in Belfast in 1928 to a family from a poor background.
He was the only one of his siblings to stay at school over the age of 14, and his family could not afford to send him to one of the city's grammar schools.
Instead he attended Belfast Technical High School, now Belfast Metropolitan College, and then entered Queen's University.
Ground-breaking
From these humble beginnings, Bell rose to become one of the world's greatest quantum physicists, and worked at the Centre for European Nuclear Research in Geneva (CERN) with his wife Mary.
He also published ground-breaking research in quantum physics, and some of his papers superseded earlier work by Albert Einstein.
Towards the end of his life, Bell was nominated for the Nobel Prize, but died in 1990 before he could be awarded the prize, which is never awarded posthumously.
The proposal to name a street after Bell was discussed by the council's Health and Environmental Services Committee but councillors rejected it.
DUP councillor Brian Kingston said all councillors had agreed that naming streets after individuals had the potential to be controversial.
"Naming streets after individuals in modern times is something the council has avoided because of the potential for controversy over the names brought forward," he said.
"Also, while John Bell was a son of Belfast, he had no geographical connection to that particular area.
"In the Titanic Quarter we are seeking to have the street names connected to the maritime heritage of the area.
"Belfast Metropolitan College might consider naming a building or a room after Bell instead."
A council spokeswoman said: "While the current council policy on street naming is silent on the use of people's names, the council has traditionally avoided using the names of people.
"Also, the street naming policy states that there should be a social, historical or geographical link in connection with the proposed name, and upon agreeing a street name, members must be satisfied that linkage fulfils the requirement of the policy."