East Belfast Mission's Mark Houston dismissed for misconduct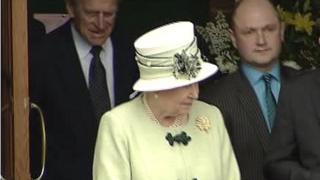 The director of the East Belfast Mission has been dismissed for gross misconduct after allegedly making false travel expenses claims.
Mark Houston was removed from his £50,000-a-year post after an internal disciplinary panel made a finding of gross misconduct.
Mr Houston denies any wrongdoing.
East Belfast Mission (EBM) is the church group behind the multi-million pound Skainos social enterprise centre in east Belfast.
Worship
The group was set up in 1985 and engages in community development in the Newtownards Road area.
It employs a staff of around 90, and an additional 100 volunteers work there, offering homeless support services, employment and benefit advice, as well as a place to worship.
Mr Houston was responsible for the day-to-day running of the mission since his appointment as director in 2007. Before that, he was a pastor at the City Church based in the Holyland area of south Belfast.
The allegations made by EBM against him included falsifying documents in relation to travel expenses and the inappropriate use of a company credit card.
According to a disciplinary hearing, he also failed to comply with the mission's internet and email policy.
When asked, Mr Houston declined to make any public comment on the dismissal. He said he did not want to prejudice any future unfair dismissal case brought against the mission.
Claim
It is understood he strongly denies any wrongdoing and believes the reasons he was given for his dismissal are "deeply flawed".
Sources close to Mr Houston said he believed he had given plausible answers in response to the allegations made against him, but these were not accepted. The source also said that he felt he had been very badly treated.
Two other members of staff have also been let go following an internal investigation at the mission after questions were raised about their performance in their respective roles.
In a brief statement, the EBM confirmed that Mr Houston no longer works at the mission.
It said: "Mark Houston has been dismissed for gross misconduct, but this is now the subject of legal proceedings which will be heard in January.
"You will fully understand that EBM cannot therefore comment further at this time, as you will appreciate that we cannot say anything that might prejudice either party."
In a statement, the Department for Employment and Learning confirmed that Mr Houston had lodged a claim with the Office of the Industrial Tribunals and the Fair Employment Tribunal.
Prior to his dismissal, Mr Houston played a major role at the mission, helping to pioneer and promote the work of the landmark Skainos centre in east Belfast.
Mr Houston is also a member of the East Belfast District and Policing Community Safety partnership.
The Skainos project has received more than £20m in funding, with the vast majority of it coming from public funds, from European Peace funding and the Department for Social development.
A year ago, the then mission superintendent, Rev Gary Mason, said four members of staff had been suspended pending an inquiry, but said the suspensions were not for "earth-shattering" reasons.