Michaela McAreavey: fresh 'developments' in murder inquiry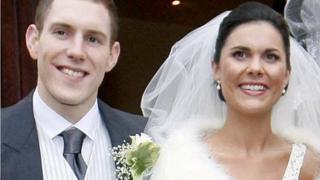 The family of Michaela McAreavey who was murdered on honeymoon in Mauritius three years ago say they have been told about fresh developments in the investigation into her killing.
It follows reports in the Mauritian media that four new suspects have been identified.
The teacher from Northern Ireland was found dead in the Legends Hotel by her husband, John, in January 2011.
No-one has been convicted of her murder.
Michaela, 27, was the daughter of one of Ireland's best known sports figures, Mickey Harte, manager of the Tyrone Gaelic football team.
She had married John McAreavey just 12 days earlier.
On the day she was killed, she had gone back to their room from a poolside restaurant to get biscuits.
When she did not return, her husband went back to their room and found her body in the bathtub. She had been strangled. Police said she had been murdered after discovering thieves in the room.
Avinash Treebhoowoon, 32, and Sandip Moneea, 43, who both worked at the hotel where Mrs McAreavey was killed, stood trial in Mauritius in 2012.
Both were cleared of her murder by a jury at the Supreme Court in Port Louis in July 2012.
Mauritian police launched a fresh investigation following the trial.
On Tuesday, a statement released on behalf of the Harte and McAreavey families said they had been informed of new developments in the investigation into her murder.
A spokeswoman for the families said: "The McAreavey and Harte families have been recently informed about new developments in the investigation into Michaela's murder. They will await further information on those developments before making any additional comment."