Farm safety: Report charts 'dramatic fall' in farm-related deaths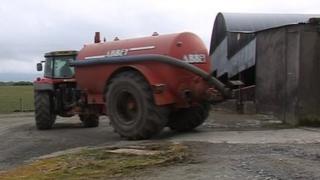 There has been a big reduction in the number of deaths on farms in Northern Ireland.
The Health and Safety Executive's annual report said four people died in agricultural-related accidents last year, compared to 11 the year before.
The number of all work-related fatalities was down to ten, from 19 in the previous year.
The HSENI said the drop in fatalities was very encouraging but farm safety remained a challenge.
Keith Morrison, HSENI chief executive said: "There is certainly no room for complacency, particularly given that this year to date has already sadly witnessed another four fatalities in agriculture.
"We must collectively continue to do all we can to ensure that farm deaths and accidents become a thing of the past."