ESA: John O'Dowd secures education committee agreement to replace ESA with single board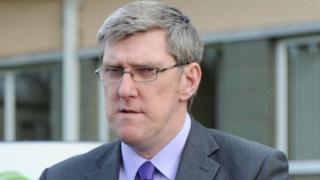 The minister for education has welcomed agreement from the executive to go ahead with a single education board instead of the current five.
It marks the end to plans for the Education and Skills Authority (ESA) that was favoured by John O'Dowd.
The body was first proposed in 2007 but missed a series of deadlines.
The aim was to create an all-embracing body with greater powers than the current five boards in Northern Ireland.
ESA's interim body has cost almost £16m over the last seven years, but its creation was not supported by the DUP.
DUP chairperson of the education committee Mervyn Storey said he was content that the controlled sector, which mostly educates Protestant pupils, would have strong representation on the new single board.
Plans to include the exams body CCEA and the Catholic council, the CCMS, have been scrapped.
Voluntary grammar schools, had objected to some proposals, will not be involved in the new board.
When it became apparent there would not be political agreement on ESA, the minister for education said he had no option but to settle for a less radical solution.
The department will now begin work on new legislation that will create the single board by the deadline of April next year when the new district councils begin work.
Plans for a single education authority with greater powers than the current boards ran into problems over the question of who would represent controlled schools, attended mostly by Protestants, and whether voluntary grammar schools would lose some of their autonomy.
Mr O'Dowd admitted in May that he had failed to convince unionist parties to accept ESA.