Only two candidates for PSNI deputy chief constable post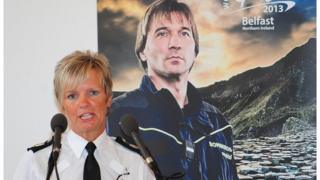 Only two people have applied for the job of deputy chief constable of the Police Service of Northern Ireland.
Leading the PSNI is regarded as one of the most demanding jobs in UK policing.
And with an annual salary of almost £160,000 and a range of benefits, it was believed the role would attract a large field of candidates.
But only two people applied, and both are serving assistant chief constables with the PSNI.
George Hamilton was appointed chief constable in June and the search then began for a deputy to fill the vacancy left by Judith Gillespie, who stepped down in March.
The deputy's position has been filled since then on a temporary basis and the Northern Ireland Policing Board expected a high level of interest from throughout the UK when it was advertised as a permanent position.
The name of the new deputy chief constable is expected to be announced later.