Kevin Barry Concannon jailed over weapons haul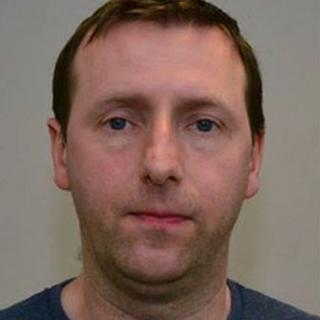 A Londonderry man has been jailed after admitting dissident republican-related charges including the possession of a bomb-making "cook book".
Kevin Barry Concannon, 41, from Beechwood Avenue, was sentenced to eight years with half to be spent in custody and half on licence.
A judge described the defendant as a "storeman" for dissident republicans.
Concannon also admitted having photographs of the headquarters of Merseyside Police in Liverpool.
He had pleaded guilty in June this year at Belfast Crown Court to a total of seven offences.
The father-of-one also admitted possessing an explosive substance, Pentaerythritol Tetranitrate (PETN), with intent to endanger life or cause serious injury to property.
He entered the same plea on a similar charge of possessing explosive substances - aluminium granules, magnesium ribbon and metal springs - with intent to endanger life or cause serious injury to property.
Concannon also pleaded guilty to possession of a firearm in suspicious circumstances; possession of explosives, namely blank cartridges, in suspicious circumstances; possession information or documents likely to be of use in terrorism, namely the Anarchist's Cookbook, and also possessing articles for use in terrorism.
The articles in the latter charge were a deactivated sub-machine gun, a set of number plates, smoke canisters and a thunder flash.
He also admitted collecting or making records of information likely to be of use in terrorism on dates between 25 and 28 October, 2012. The information in question were images of Merseyside Police HQ.
Two further charges were left on the books.
Items found in coal bunker
Police had carried out a search of Concannon's home on June 10, 2013 as part of a follow-up investigation into the discovery of four primed mortar bombs while they were being transported from County Donegal to Derry on 3 March, 2013.
A number of items were found in a coal bunker in the backyard - a tennis ball containing 130 grammes of PETN explosives wrapped in cling film and a number of cartridge cases also wrapped in clingfilm.
A thunder flash and smoke grenades were found in the hot press, while a laptop was found to contain images of three masked men posing with a weapon or firearm.
The Anarchist's Cookbook was also found on the laptop, which contained the instructions for making bombs and the ingredients required.
Images of men dressed in military uniform and 12 photographs of Merseyside Police Headquarters were found on a camera. Concannon admitted taking these images.
A further search was carried out of his home a couple of days later and police recovered number plates, a deactivated 7.62 sub-machinegun hidden in the hot press along with a magazine that was found to be mechanically working. A pyrotechnic thunderflash similar to those used in paintballing was also recovered.
Belfast Crown Court heard that during the second search, police also recovered aluminium granules, magnesium ribbons and metal springs, which said the prosecutor, were similar to items found on mortar bombs seized on the Letterkenny Road in March 2013.
A prosecutor said the PETN found in the coal bunker was a "highly explosive substance" and a small amount used in an improvised explosive device (IED), such as an undercar booby trap bomb, had the potential to cause "major and even fatal injuries".
Concannon's wife Lesley, a fitness instructor from West Virginia, was originally charged with her husband over the explosives haul but the charges were later dropped.
Following his release, Concannon will also be subject to a counter terrorism notification period of 10 years in which he will have to inform the police of his address and movements.