William Hay says staff member suspended pending investigation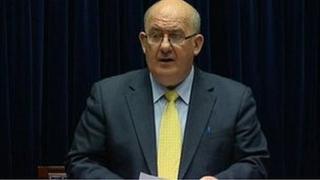 The Stormont Assembly speaker has said he has suspended a member of staff pending the outcome of a police investigation into possible fraud at his constituency office in Londonderry.
William Hay said that last week he contacted the police to report the discovery of what appears to be fraud in his Foyle constituency office.
He said it followed an investigation he had begun after an irregular trend in payments from his Assembly Office Cost Expenditure was brought to his attention.
The DUP MLA said he had not previously noticed the irregularity.
Mr Hay also informed the assembly authorities who have begun their own investigation.
Mr Hay said he has suspended a member of his constituency staff pending the outcome.
In a statement, Mr Hay, who is to leave his post for the House of Lords, said he had to take personal responsibility for the fact that his management of affairs in the office did not uncover what was happening earlier.
"No one will be more critical of that than me," he said.
"I will be making no further comment on the situation within my constituency office while the criminal investigation is ongoing."