Patrick Devine murder: Brother offers £50,000 reward for information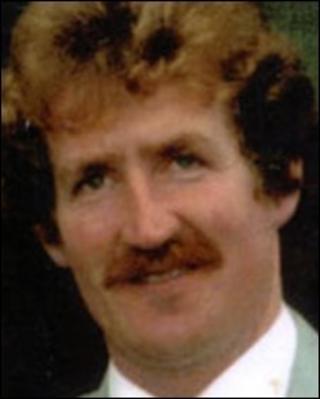 The brother of a man murdered near Claudy, County Londonderry, 10 years ago has offered a reward of £50,000 for information leading to the conviction of anyone involved in his death.
Patrick Devine was found shot dead in his home at Stranagalawilly on 13 September 2004.
The 51-year-old was a sheep farmer and part-time nurse.
Det Ch Insp Una Jennings, said Mr Devine's life had been taken in a "brutal and calculated manner".
"Mr Devine was well known in the area, especially for his farming activities, but he also worked as a nurse at Waterside Hospital. It is fair to say that some people resented his success," she said.
'Justice'
"It is the police view that Patrick was the victim of a contract killing carried out by an organised crime group with paramilitary links against a background of rumours of alleged sheep stealing and land disputes, although Mr Devine had a clean criminal record."
Offering the reward, Patrick's brother Aiden Devine said:" I feel I owe it to Patrick and I know if it had been the other way around that he would have tried his best to get justice for me.
"I know it will never bring Patrick back but we need some closure."
Patrick's mother Katie Devine said although her son was killed 10 years ago, it seemed as "though it was only yesterday".
"His killing has brought nothing but sadness and heartache to myself and the rest of the family," she said.
"Personally, it takes a lot out of me to talk about his death and I would rather not mention it. However, you never forget and the pain is never ending.
"I often think about his final moments and why they had to kill him. My heart is forever broken."
'Closure'
The family made a "direct appeal" to anyone who has information to come forward.
"We know it will never bring our beloved Patrick back to us, but it will at least bring some closure to know that the people who committed this terrible crime are being made accountable before the courts," Mrs Devine added.
Det Ch Insp Jennings said a review of the case had been conducted.
"Additional lines of enquiry are being progressed and some forensic work undertaken," she said.
"I am asking people to think about what happened to Patrick 10 years ago and the brutal circumstances of his death - shot several times in the head and chest as he was having a meal in his home."
She said in the 10 years since Mr Devine's murder, "circumstances and allegiances may have changed".
A reward of £5,000 has also been offered by the Crimestoppers charity.
An inquest into Mr Devine's death found that he died of at least nine gunshot wounds to the head and chest.