Alfie Boe looks forward to Belfast Proms in the Park show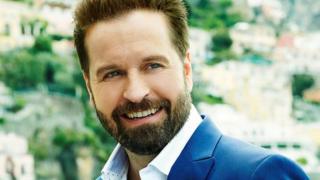 English tenor Alfie Boe packs out both opera houses and musical theatres, but he says a night at the opera is not his idea of a good time.
"I love opera, I love classical music, but I don't really like to go to watch an opera because I do find it quite boring to sit down in a theatre for three hours," he says.
Boe headlines the Belfast leg of the BBC's Proms in the Park at Titanic Slipways on Saturday, and he says his focus is simply on good tunes.
"This music is a nice segue for people if they are interested in learning a little bit about classical music, as these songs can ease you in and I like that," he says.
"The tunes that you get to play on there are fantastic - they're songs that people know, that they can sing along and dance to, and to really have a good time with."
'Opening doors'
Part of the Last Night of the Proms, the main event takes place amid the pomp of the Royal Albert Hall, but outside of that, the crowds will be gathered outside in different circumstances - linked up via big screens in London's Hyde Park, Glasgow Green and Singleton Park in Swansea - and that suits Boe down to the ground.
"It's important to open the doors to other avenues of music, and the Proms is a great way of introducing people to the classical world," he says.
"It's not just a classical event - over the years they've had so many different styles of performer and it's wonderful to see.
"The crowd are just incredible when you do a Proms gig."
The West End star is keeping a few surprises in store, but he promises that he will definitely be singing Bring Him Home from Les Miserables, describing it as "the song I'm probably most famous for".
He says he is especially excited because the show marks the first time he will perform in public lyrics that he has written himself.
"The music for My Heart is Yours is the theme from the movie Il Postino; it's a beautiful melody and I've put my own words to it," he says.
While recent releases have seen Boe tackle rock songs by the likes of Elvis Costello and Bob Dylan, with his new album Serenata he goes back to the Italian music he first heard when the ice cream van played O Sole Mio in Fleetwood, his Lancashire hometown near Blackpool.
"The Neapolitan repertoire is a style of music that has been a part of my life for a long time - I grew up listening to these songs and I'm a trained opera singer, so I learned a lot of these songs in college," he says.
"In the last couple of years I was testing the waters - music is music to me, it doesn't really matter what genre it's from.
"I was never really forsaking classical or turning my back on this repertoire - I was really just experimenting and trying out new things."
He says he has relished bringing his own take on the Neapolitan songs "that have been performed by so many different artists down the years, from Pavarotti and Caruso to people like Elvis, Sinatra, Dean Martin and Freddie Mercury".
"I've spent a lot of time in Italy and gone into restaurants and bars where these songs are still being sung," he says.
"People grow up listening to these songs, hearing their parents and grandparents sing them, and culturally it's a really important thing for them to keep hold of."
An arena tour in November and December is the next step for him, and he says he wants to "transport people to another era with passionate and romantic music".
Whether he is singing opera, showtunes or classic rock, he says the intention remains the same.
"Your goal as an artist is to make your own mark on a song that's been around for a while that many people have performed," he says.
"This comes with your understanding of your own voice. This is something that comes naturally."
How to watch Proms in the Park
Proms in the Park is now in its 13th year, and the concert at Titanic Slipways is BBC Northern Ireland's biggest outside broadcast event of the year.
Artists from Northern Ireland and around the world will be performing alongside the Ulster Orchestra in a programme which combines classical and contemporary music.
Among those appearing in Belfast are Anton du Beke and Erin Boag from BBC TV's Strictly Come Dancing.
The bill also includes saxophonist Amy Dickson, violinist, Kirill Troussov, jazz singer Dana Masters and BBC Young Musician 2014 winner Martin James Bartlett
The entire Belfast concert, hosted by Noel Thompson and Claire McCollum, will be shown online at bbc.co.uk/proms. Further extracts will be carried on the BBC red button, and BBC Radio Ulster will also be live on the night with presenter John Toal.
An app providing information about the music as it happens is available at promslive.bbc.co.uk