Marie Stopes clinic in protest escorts move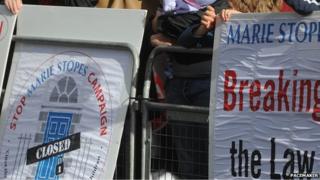 An abortion clinic in Belfast has been training volunteers to escort clients past anti-abortion protesters.
Escorts trained in the use of body-worn cameras have been accompanying clients of the Marie Stopes clinic to and from its city centre building.
A Northern Ireland Assembly member has said the measure is an over-reaction to the protests.
There have been regular protests since the clinic opened in Great Victoria Street in 2012.
Clinic director Dawn Purvis said the protests were having an effect on clients, and that the clinic had to respond.
'Important'
"The women that come to us are very upset and very frightened by the behaviour of the protesters," she said.
"Our volunteers have been through a vetting scheme and a very intense training course in de-escalation methods and how to deal with conflict."
The escorts have also been trained in additional security measures including body-worn CCTV cameras and distress calls.
"The body-worn CCTV is for protection and public safety, and also to record potential incidents of criminal behaviour."
However, DUP MLA Jim Wells supports the protests outside the clinic and said they are important and peaceful.
"I have spoken to some of the protesters and they do try to talk to women and persuade them not to have an abortion, but certainly watching what goes on, I don't see anything that would cause me concern."
He said the clinic has gone "over the top" by introducing the escort scheme and additional security measures.
'Traumatised'
"I would know most of the protesters and I don't think anyone needs a bodyguard."
"It's entirely verbal, and they have a right to persuade women not to have an abortion."
Dawn Purvis said she supports the right to peaceful protest, but disagreed with Mr Wells.
"People may view it as an over-reaction, but when you witness someone who is traumatised and extremely upset by these people who protest outside, then you will understand why we had to take these steps."
One of the women who has volunteered to accompany women to and from the clinic said that some of her own experiences elsewhere made her get involved.
"I've been to the Family Planning Association offices, and coming out of their building there are often protesters there as well," said Claire Bailey.
"I've been followed, harassed in the street, shouted at and called names, and I don't think it's fair and I don't think it's right."
"I want to stand up and say enough is enough."