Danske Bank closing branches in Kircubbin, Lisnaskea and east Belfast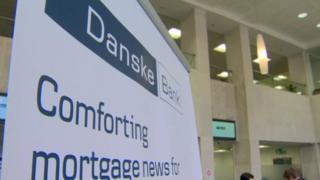 Danske Bank is closing a further three branches at the end of this month.
They are in Kircubbin, County Down, Lisnaskea, County Fermanagh, and on the Cregagh Road in east Belfast.
The Kircubbin branch will be absorbed into the Ards branch, Lisnaskea customers will be directed to Enniskillen and Cregagh Road business moved to the main city centre branch.
The bank said no jobs would be lost as a result and that there would be no further closures this year.
Northern Ireland's Economy Minister Arlene Foster, who is an MLA for Fermanagh & South Tyrone, criticised the decision.
'Whilst businesses will often have to take decisions that will affect their operation in an area, I find it outrageous that Danske Bank moved to make this announcement without any consultation with the local community or myself as an elected representative.
"This bank provides a vital local service for the community, and I have spoken to the chief executive of Danske Bank this morning immediately after I was informed of their decision.
"I have requested a meeting with the bank, particularly to discuss their proposal to not only close the branch, but to remove the ATM also," she added.
Earlier this year, Danske Bank announced that its branches on Belfast's Shankill Road and in Holywood, County Down, would also close.
Meanwhile, First Trust Bank said it is to close two branches by 5 December .
Its Coalisland, County Tyrone, branch customers will transfer to nearby Dungannon, while customers of the Carrickfergus, County Antrim, branch will transfer to Glengormley.
Explaining the move, Des Moore, head of First Trust Bank said: "The reality is that far fewer of our customers are using their branch for routine transactions that can now be carried out more conveniently using technology - whether that's to pay bills, transfer funds or simply to keep an eye on their finances.
"As customer habits change, the resulting decline in branch usage means that, regrettably, we have had to make this difficult decision.
"We will be working hard to ensure that this change happens as seamlessly as possible for all impacted customers."