Whiterock Leisure Centre football match assault investigated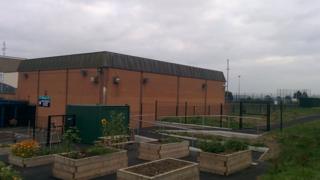 Police are investigating reports that several children were assaulted at a football match in west Belfast.
It is believed to have happened at Whiterock Leisure Centre on Saturday.
Insp Ian Lockyer said: "Police are investigating this incident and enquiries are ongoing."
DUP councillor Gareth McKee said it was a "disgraceful sectarian attack", while PUP councillor Julie-Anne Corr said "the experience must have been absolutely terrifying".
SDLP councillor Tim Attwood said: "If an investigation reveals that this was indeed a sectarian attack then it must be condemned in the strongest possible terms.
"However, I would urge people, and especially elected representatives, to exercise caution in casting judgment on the incident before the authorities have had time to come to a conclusion following a comprehensive investigation."
Belfast City Council said in a statement it was aware of an incident and had begun an investigation.