Senior police post: Policing Board rejects Sinn Féin criticism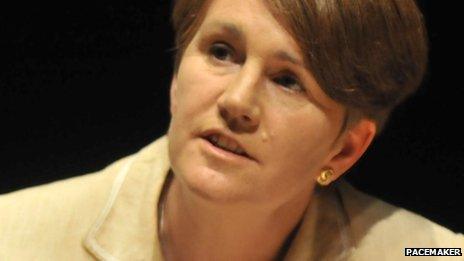 Northern Ireland's Policing Board has rejected Sinn Féin claims that the process to recruit a new deputy chief constable was compromised.
The board, which holds the Police Service of Northern Ireland to account, said it had recommended to the justice minister who should be appointed.
Sinn Féin Policing Board member Caitríona Ruane said she would withdraw from the selection panel because "the process may have been compromised".
The post became vacant when Judith Gillespie stepped down in March.
Ms Ruane said in a statement on Monday: "In light of the need for absolute transparency in all public appointments, and to protect the Policing Board's integrity, I believe the best course of action would be to begin a new recruitment process."
She later said her concerns did not "reflect in any way on either of the two senior officers involved".
The Policing Board had expected a high level of interest from throughout the UK when it was advertised as a permanent position.
In a statement on Monday, a spokesman said: "The recruitment competition has been subject to extensive independent oversight and scrutiny at all stages.
"Any suggestion that the process may have been compromised is firmly rejected."
Analysis: Vincent Kearney, BBC NI home affairs correspondent
Two people were up for the job - assistant chief constables Will Kerr and Drew Harris - and a second round of interviews was held on Monday morning.
Ms Ruane announced beforehand that she was withdrawing from the process, but the interviews went ahead.
A preferred candidate was identified, and senior officials from the Policing Board went to meet Stormont Justice Minister David Ford on Monday afternoon, because legally he has to approve the appointment.
It had been expected that the appointment would be announced, but instead, the board put out a statement saying that a recommendation had been made for the minister to consider.
Policing Board members are surprised by this delay.
Sinn Féin insists this is all about process, but other Policing Board members say it is all about personalities.
They say one of the candidates, Drew Harris, sanctioned the arrest of Sinn Féin president Gerry Adams earlier this year, and they suggest the party does not want to be part of any process that would lead to him being appointed.
Ms Ruane said her concerns were about the "integrity of the process" and not about the two senior officers.