Isle of Lewis: Language and life inside the Outer Hebrides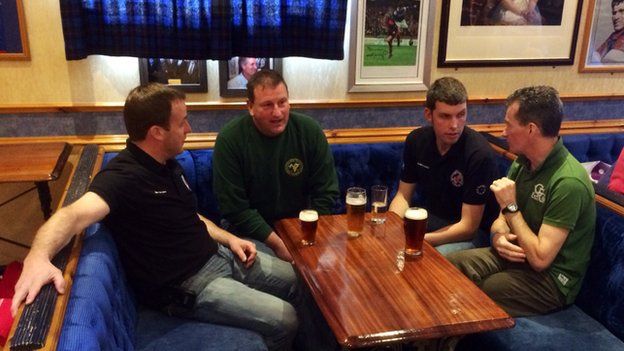 Inside the Glasgow Rangers football supporters' club there is the usual décor - union flags, team photos, even a portrait of the Queen.
Diehard Rangers fans sit in a booth discussing the new season. They are joined by friends kitted out in the green and white of their long-time rivals, Glasgow Celtic.
Not a word of English is spoken; the conversation is entirely in Scots Gaelic.
Stepping inside the club in Stornoway, on the Isle of Lewis, is like entering a different world.
Retired health worker Dave Tierney is originally from Andersonstown, Belfast, but he moved to the island, off the west coast of Scotland, 32 years ago.
He recalls playing football when he first arrived.
"When I went into the changing rooms I heard the Rangers lads and the Celtic lads speaking Gaelic and I started scratching my head thinking 'this is a bit odd'.
"One of the Celtic lads and one of the Rangers lads started having a to-do," he says.
Mr Tierney remembers saying "there could be trouble here" but the young men around him started laughing and told him the pair were brothers.
When he questioned if that was true, he remembers being told "yes and, even better, their father is a Free Presbyterian minister'.
This is not unusual in this community; life on Lewis is simple.
The unspoiled beaches stretch into the distance and its twisting roads lead you through endless miles of heathland and mountains.
With a population of about 20,000, the island is close-knit and daily life is very much a shared experience.
Protestant faith is a major force here. The Sabbath is widely observed and the main town of Stornoway is eerily quiet on Sundays.
Breaking the silence is a distant echo from the Free Church of Scotland.
A distinct melodic drone provides the soundtrack to the empty streets and creaking boats in the harbour.
The congregation are singing psalms in Gaelic.
"People always look to God," says local historian Malcolm MacDonald.
"Everything is shut on a Sunday and it's only in recent times two or three public houses have opened and restaurants have opened.
"People seem to be happy with that, even people who are perhaps not Sabbath observant."
Sunday worship remains a formal occasion in the Free Church in Stornoway.
Women heartily sing wearing dresses and hats; the men are all in ties and jackets.
Despite a healthy attendance, only a handful are not yet 60 years of age.
Across town, a group of boys play football in the street wearing a mixture of Old Firm jerseys.
They kick the ball against a wall, practising their first touch, and the jokes are in Gaelic. Sporting relations are not confined to supporters' clubs in the Isle of Lewis.
In the 1990s, the Western Isles Council officially changed its name into Gaelic.
It remains the only local authority in Scotland to have done this and is now formally known as Comhairle nan Eilean Siar.
This was not purely a cultural decision. Gaelic-speaking services employ more than 1,000 people across the Outer Hebrides and, with an economically active population of just 13,000, it is one of the region's most vital industries.
Angus Campbell, who is the leader of Comhairle nan Eilean Siar, says he has never received any complaints about the council's decision to use its Gaelic name.
"It came through a Private Member's Bill but I think it's important that it's been embraced by all the people on the islands, and we recognise it as a little badge for ourselves of the difference that we as a community have from maybe some of the communities elsewhere in Scotland."
The council's leader does not speak the language fluently himself, but says he know enough to get by.
"I speak a little bit of Gaelic, not an awful lot, but I do know when people are talking about me in Gaelic, which is the most important thing," Mr Campbell says.
From the air, heading back to the Scottish mainland, you are reminded of the rugged, often unforgiving, terrain.
Life on Lewis might mean cultural isolation, but few who live there would have it any other way.
Rick Faragher's report from the Isle of Lewis will be broadcast on BBC Newsline at 18:30 BST on Tuesday, on BBC One Northern Ireland.