Belfast harbour expansion plan gets go-ahead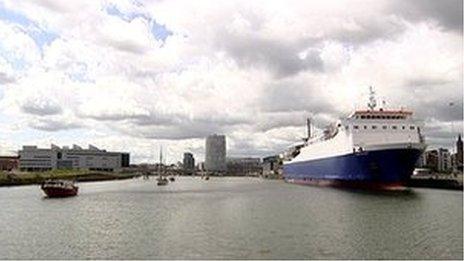 A plan to expand Belfast Harbour by reclaiming 60 more acres of land has been given planning approval by Environment Minister Mark H Durkan.
Six million tonnes of rock will be used in a project likely to take three years.
The area to be reclaimed from Belfast Lough is at "the seaward end" of Victoria terminal four, where Stena Line operates ferries to Scotland.
Mr Durkan said: "This extension is good news for Belfast and will bring jobs in the construction phase."
Planning documents have stated that reclaiming the land is "a core requirement" for the growth of the harbour.
Sixty acres is about one third of the size of Titanic Quarter.
Rock would be delivered by road from local quarries and moved into place by bulldozers and excavators.
The Quarry Products Association of Northern Ireland has said the project would support at least 250 jobs.
"The city has a strong maritime history and this extension will enhance an already world class facility at Belfast port," Mr Durkan said.