Casement Park: Case for bigger stadium 'not established'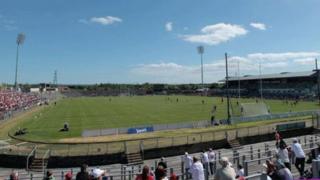 A planned 38,000-seater GAA stadium in west Belfast would replace a ground that does not come close to selling out a lower capacity, a court has heard.
Lawyers for a residents group seeking to block the Casement Park proposals argued that the scale is not warranted.
It was also claimed that possible ground contamination and asbestos issues were not fully explored before the build scheme was approved.
The Department of Culture, Arts and Leisure is funding the new stadium.
It is to be built on the existing site, and would include fully modern facilities and corporate resources.
Modest
However, the Mooreland and Owenvarragh Residents Association (MORA) claims the proposed ground is simply too big for the area.
They have argued that a stadium of that magnitude will block out light, reduce the quality of life for those living close by and compound traffic congestion.
It is further alleged that planning chiefs failed to properly assess the new Casement Park as a mixed-use facility also capable of holding concerts and other public events.
Counsel for MORA has said the association is not opposed to redevelopment of any kind.
According to their case, a more modest 20-25,000 seater stadium would be acceptable.
On day three of a judicial review hearing, the reasoning behind a 5,400 seat increase from the current 32,600 capacity came under scrutiny.
Excess
David Scoffield QC, for MORA, said that the need for that size of stadium and in that location has not been established.
The court heard the GAA believed a 38,000-capacity ground was the minimum level for the development to work.
But Mr Scoffield claimed no explanation has been given for the figures.
"It's far in excess of anything that's been achieved in the stadium for decades," he said.
"There seems to be an acceptance at present that the stadium can't operate at a capacity which is being used as the baseline."
'Unacceptable'
The residents group want the court to quash Environment Minister Mark H Durkan's decision last December to approve rebuilding the stadium.
They claim that the planning application was rushed through and failed to properly comply with relevant policy.
As he conducted a detailed trawl through all the paperwork in the process, Mr Scoffield said: "The residents are entitled to know how planning service reached its decision.
"Is it saying 'this new stadium will affect your property in a way that is unacceptable, but for the greater good, weighing other planning considerations in the balance I'm afraid you just have to put up with it'?"
He queried whether a finding had been reached on whether potential overshadowing and loss of daylight to surrounding homes was deemed acceptable or not.
The barrister also said: "The minister reading this would have absolutely no idea there were possible ground contamination issues. He doesn't know about asbestos."
The hearing, which is now expected to last for a minimum six days, continues.