Woodvale, Belfast: Two arrests over attack on house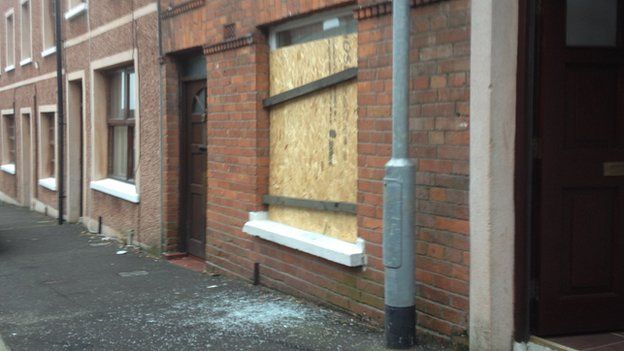 Police are treating an attack on a house in north Belfast as a racially motivated hate crime.
A number of windows at the front of the house at Broom Street in the Woodvale area were smashed at about 20:40 BST on Monday night.
A man and woman who are originally from Hungary were in the house at the time. They were not injured.
The police said a 50-year-old woman and 34-year-old man were arrested on suspicion of criminal damage.
The victims told the BBC they believed they were targeted for being foreign nationals.
They were sitting in the living room at the front of the property when the attack happened before running upstairs.
From a window, they said they saw two people wearing masks with a baseball bat outside.
The pair have lived at the home for a year and came to Northern Ireland five years ago.
Progressive Unionist Party leader Billy Hutchinson said the Woodvale community would "rally round and support the family" whose house was attacked.
"We all have a duty to ensure that everything is done so that there is not a repeat of this type of attack and that people are able to live their lives in peace and not in fear," he said.