'Damaged' child removed from mother to County Dublin centre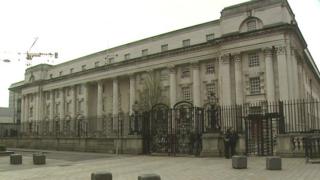 A 13-year-old girl effectively shut off from the outside world can be separated from her mother and moved from Northern Ireland, a High Court judge has ruled.
Mr Justice O'Hara approved sending the child to live at a centre in County Dublin for seriously troubled children.
He did so in a bid to undo "severe damage" to the child referred to as S.
With no equivalent services north of the border, he granted a health trust's application for the girl to stay at the centre in the Republic of Ireland.
His verdict was reached after hearing evidence of the teenager's upbringing, bereft of any real friends and entirely tutored by her mother at their home.
He detailed further issues about the girl's appearance and state of the house, along with episodes of extreme, hysterical behaviour and a relationship with her 49-year-old mother he described as being well outside merely unusual.
"She needs urgent specialised and intense intervention," the judge said.
In a newly published ruling, Mr Justice O'Hara also expressed surprise that statutory agencies had not shown a real interest in the child's educational and domestic arrangements years sooner.
"There should have been checks to ensure that S was in fact being schooled and to an acceptable level. These seem not to have taken place."
Both the mother, referred to as M, and her daughter opposed the trust's application, which came after it obtained a series of interim care orders.
'Free-spirited life'
Although originally from Northern Ireland, the court heard how M had lived abroad for periods.
She was said to have been impressed by free-spirited lifestyles and returned home having developed friendships with people who shared her thinking, dress style and general approach.
Having split up with the child's father, she moved with her daughter to a small town in Northern Ireland and decided to teach the girl at home.
Mr Justice O'Hara acknowledged M's devotion to her child, but said: "They are completely enmeshed with each other to the effective exclusion of the outside world."
Police were contacted last December after neighbours reported the girl screaming and behaving strangely at her home.
Social workers who then visited the property had to use a torch because there were no overhead lights upstairs, the court heard.
'Spartan existence'
They found the door to S's bedroom off its hinges and that she slept on a small thin foam mattress on the floor.
"The descriptions of their home suggest a Spartan existence without luxuries or treats," the judge said.
Concerns were raised at that stage about the girl's appearance - she was so small that she sat on a booster seat on a kitchen chair.
"She looked much younger than a girl close to her 13th birthday and her clothes were too small, her skin was pale and her hair was matted and greasy," Mr Justice O'Hara added.
The pair's isolation was said to have been compounded by financial limitations that made it difficult for them to even travel into Belfast.
Although the girl has been assessed as having above average intelligence, an educational psychologist identified notable gaps in her learning, social and emotional development.
'Bouts of screaming and aggression'
In February this year police found the girl extremely cold and walking along a busy road towards Belfast.
Angered at their intervention, she accused officers of having beaten and pinned her down.
Bouts of screaming and aggression were detailed over which M appeared to have little or no control.
After the first care order was made the mother and daughter were referred to a family centre on an emergency basis in March.
The court heard how S was seen punching M and repeatedly acting hysterically.
Having studied expert opinion that M and S need to be separated, Mr Justice O'Hara had to decide whether it was in the girl's best interests to live outside Northern Ireland for some time.
Ruling that it was, he said: "It is simply unrealistic to think that S will not be damaged even more by staying with her mother."
"S is a much damaged, isolated child whose relationship with her mother has long since gone beyond being unusual," he pointed out.
Even though the pair both objected to the proposals, the judge held that the girl has insufficient understanding of the issues and that M unreasonably withheld consent.