Northern Ireland housing: Prices rise in July by 4.5%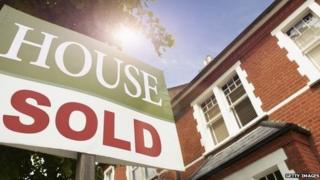 House prices in Northern Ireland rose by 4.5% in July, according to the Office for National Statistics (ONS).
That was the lowest increase of any UK region. The UK average was 11.7%, but that was skewed by a rise of over 19% in London.
The ONS index suggests the price of a typical house in Northern Ireland is just under £139,000, comparable to the level early in 2006.
The ONS index is based on data from mortgage completions.
Meanwhile, Danske Bank has revised its Northern Ireland growth forecast for 2014 up to 2.6% from a previous figure of 2.4%.
'Welcome lift'
The bank points to rising employment levels, a recovery in the local housing market, improved confidence, improved credit conditions and growth in Great Britain and the Republic of Ireland.
Danske Bank chief economist Angela McGowan said: "It is a case of so far so good for the local economy in 2014.
"In particular, the recent improvements in the housing market have provided a welcome lift for the construction sector and helped to boost consumer confidence.
"Over the year to quarter two, we saw new jobs being created in a variety of sectors including agriculture, manufacturing, construction and services, indicating that the recovery is now much more widespread across Northern Ireland's private sector."