Team picked for Belfast Northside regeneration project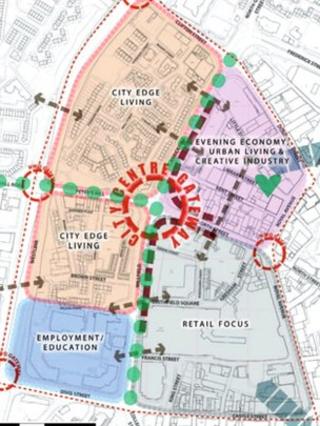 A partnership between an international construction firm and a Northern Ireland property company is expected to be chosen as preferred developer for a major Belfast regeneration project.
The Northside scheme focuses on an area between Royal Avenue and the Westlink.
First proposed by the Department for Social Development (DSD) in 2008, it includes plans for 800 new homes.
The Balfour Beatty/Benmore partnership has reached the final stage of the development brief process.
This involves DSD and the partnership reaching a "collaboration agreement" that sets out roles and responsibilities.
'City living'
The earlier stages of the process entailed a competition that assessed financial capacity and compatibility with DSD regeneration objectives.
Balfour Beatty is one of the world's largest construction firms with an annual turnover of around £10bn.
The Benmore Group, which is controlled by Kevin McKay, has developed offices, shops and houses in Belfast, Scotland and the north west of England.
The firm controls at least one significant development site in the Northside area.
One edge of the Northside scheme is adjacent to the new University of Ulster campus.
The department said student housing had not been ruled out as part of the "city living" element of the scheme.
A spokesman said: "Part of that city living may include purpose-built managed student accommodation.
"No agreement has been reached on the proportionality and configuration of the sites in the development area."