Chuck Feeney donates almost £25m to NI education and health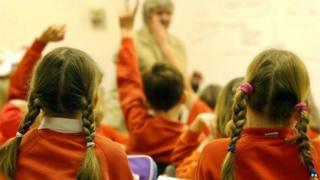 A US philanthropist has donated almost £25m to shared education, dementia care and early years learning programme in Northern Ireland.
Chuck Feeney, an Irish-American billionaire businessman, is providing the money through his Atlantic Philanthropies foundation.
His donation will go towards a £58m investment in the three programmes.
The remainder of the investment, £33m, is being funded by the Northern Ireland Executive.
Northern Ireland's first and deputy first ministers jointly announced details of the funding at an event in Belfast's Crescent Arts Centre.
First Minister Peter Robinson said: "Aimed at helping those most in need, these three new projects will help provide support for people with dementia and their carers.
"They will help deliver improved services for parents facing difficulties and provide schools with the resources that they need to increase shared education among our young people."
Deputy First Minister Martin McGuinness said: "Although the £58m is coming from different sources we all share a common aim - to make a tangible difference to the lives of the people who need it most.
"We must address the needs of all of our citizens, in particular those suffering disadvantage and those on the margins of society," he added.
Mr Feeney set up his Atlantic Philanthropies foundation in 1982 and has spent the last 30 years donating billions to good causes around the world.
'Colossal contribution'
The 83-year-old Irish American made his fortune in duty free shopping, and pledged to give away his entire fortune in his own lifetime.
He is known for his frugal lifestyle - he does not own a home or a car and wears a $15 (£9) watch.
Atlantic Philanthropies has been funding a shared education programme in County Fermanagh for five years.
The organisation's aspiration is that it will become the norm for Protestant and Catholic children across Northern Ireland to be educated together "rather than the exception."
The first and deputy first ministers both paid tribute to his foundation's long-standing support to the region.
Mr Robinson said: "I commend Atlantic Philanthropies for committing £25m to this programme and I thank them for the unceasing work and significant investment they have provided over the last number of years, both in Northern Ireland and overseas, to improve the lives of those most disadvantaged."
Mr McGuinness said: "I thank Atlantic Philanthropies who have made a colossal contribution to our journey to build a more equitable society protecting rights and strengthening democracy.
"These projects will have a significant impact on the quality of people's lives, now, and for years to come. The legacy will be a brighter future for the most vulnerable people in our community."
Last month, the foundation gave almost 15m euros (£11.9m) for dementia care and research in the Republic of Ireland, matched by the government.
Over 30 years, Mr Feeney's foundation has given $6.5bn (£4bn) to help disadvantaged and vulnerable people.
Atlantic Philanthropies is now making a final round of grants.