Northern Ireland dole claimants: Numbers down for 20th month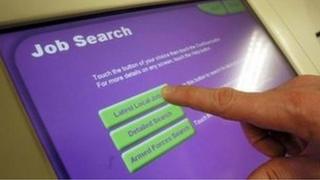 The number of those claiming unemployment benefit in Northern Ireland fell by 600 in August to 52,500. It was the 20th fall in a row.
The other measurement of unemployment, the Labour Force Survey, also saw a fall of 0.3%, down to 6.6%.
Other official figures also recorded growth in the Northern Ireland economy in the second quarter of this year.
They showed the service sector increasing its output by 0.4% compared to the previous quarter.
Strong growth
That represented a growth of 2.2% compared to the same period in 2013.
The service sector is the biggest part of the private sector economy.
The production sector, which is mainly manufacturing, saw strong growth.
Output was up 1.9% on the previous quarter and up 6.2% on the year.