Francis McPeake abuse trial: Woman in witness box for a second day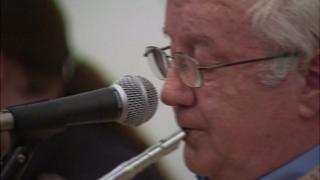 A young woman who claims she was abused as a teenager by the well-known folk musician Francis McPeake has been in the witness box for a second day.
The 72-year-old denies 12 counts of sex offences against her.
The woman, who cannot be named to protect her identity, claims she was in a sexual relationship with Mr McPeake when she was 15 and still at school.
Mr McPeake's defence team questioned the truth behind her claims and said he was unable to have sex.
His barrister told Belfast Crown Court his client had been diagnosed and treated for prostate cancer in 2004 and was unable, even with the help of prescribed medication, to have intercourse.
He also questioned the woman about claims that she had felt a skin tag on his back while they were being intimate.
He said she could have seen the mark through a vest top he was wearing while cooking for musicians in a hot kitchen at a music festival in the Republic of Ireland.
The woman said she had never seen the mark, but had felt it.
Questioning her evidence, the defence barrister said: "You were never abused, the defendant never touched you.
"I suggest to you that none of that sexual activity took place."
The woman insisted she was telling the truth.
The abuse is alleged to have happened from summer 2009 until February 2010.
The trial continues.