Marion Millican's husband found her in 'pool of blood'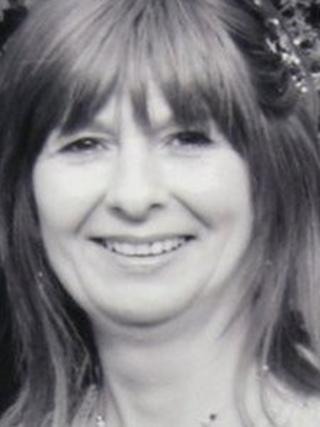 The husband of a woman killed at the laundrette where she worked has told a court he cradled her in his arms to see if she was still alive while she lay in a pool of blood.
Fred McClenaghan, 52, denies murdering Marion Millican, 51, at the laundrette in Portstewart in March 2011.
Mr Millican said they had separated for a year in 2009. During that time Mrs Millican entered a relationship with Mr McClenaghan from County Londonderry.
He claims he shot her accidentally.
Giving evidence at Antrim Crown Court, Mr Millican said the couple had been married for 35 years when their relationship broke up.
He said that when they got back together at the start of 2011 Mrs Millican confided in him that Mr McClenaghan, from Broad Street, Magherafelt, had been violent towards her; on one occasion punching her unconscious and on another trying to strangle her.
Mr Millican was one of the first people to get to the laundry after the shooting.
"When I went into the launderette I could see Marion lying on her right side. She was lying in between the shop and the back room," he told the court.
"My first thought was that she was just unconscious. I tried to find a pulse but I couldn't feel one.
"I was down on my knees right beside her head. I put her head in my arms and brought her lips up to my cheek to see if I could feel her breathing but I couldn't feel her breath on my cheek.
"I then felt my arm was warm and I didn't know what it was. I looked down and saw it was blood but I couldn't see where it was coming from."
Earlier on Friday, a witness told the court Mrs Millican had got her smile and sparkle back.
Thomas Henry, whose wife Pamela was a friend and colleague of Mrs Millican, said she got her smile and sparkle back when she got back together with her husband shortly before she died.