Ian Paisley: New BBC documentary assesses life of DUP founder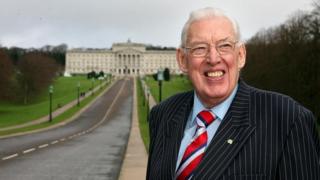 The life of Ian Paisley, the former first minister of Northern Ireland who died earlier this month, has been assessed in a new BBC documentary.
Mr Paisley, who founded the Democratic Unionist Party (DUP) in 1971, was a controversial figure who dominated Northern Ireland politics for decades.
He died, aged 88, on 12 September following a long illness.
His family, friends and critics have contributed to Monday night's TV documentary - Paisley: A Life.
The former DUP leader was one of the best-known and longest-serving figures in British politics and was both loved and loathed for his outspoken views on politics and religion.
Childhood memories
The preacher, who set up his own church and political party, had opposed power-sharing agreements for decades, but eventually negotiated a deal and entered government with his one-time enemies, Sinn Féin.
The documentary hears from his son, Ian Paisley Jr, who recalls his childhood memories of family life with the man he followed into politics.
The DUP founder was famous for his blistering verbal attacks on British prime ministers, and his snowball attacks on an Irish prime minister.
The programme makers speak to former British Prime Minister Tony Blair and his then Irish counterpart Bertie Ahern, who share their recollections of negotiating peace agreements with Mr Paisley.
Former foe
The documentary also hears from former loyalist paramilitaries and examines Mr Paisley's role in opposing the Civil Rights Movement in the early days of the Troubles in Northern Ireland - specifically the events that led up to the attack on unarmed marchers at Burntollet Bridge in County Londonderry in 1969.
It also gets the views of Sinn Féin's Martin McGuinness, who spent his first year in office as deputy first minister working closely alongside his former foe.
The IRA man turned politician came to regard the hardline unionist leader as his friend.
A BBC spokeswoman described the programme as a "frank and comprehensive assessment of Paisley's role in the conflict in Northern Ireland, as well as his role in its conclusion, told by those who dealt with Paisley first hand as a preacher, politician, and ultimately peacemaker".
Paisley: A Life will be broadcast on BBC One Northern Ireland at 21:00 BST on Monday 22 September.