Francis McPeake abuse trial: Mother of accuser gives evidence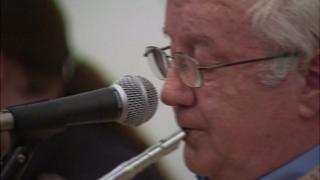 The mother of a 20-year-old girl who claimed she was sexually assaulted by traditional Irish musician Francis McPeake has been giving evidence in the trial.
The 72-year-old denies 12 counts of sex offences against the girl who was 15 at the time of the alleged incidents.
Her mother said she confronted Mr McPeake as soon as she became aware of the allegations.
She told him to stay away from her daughter and he told her "okay".
Earlier, the court heard from one of the alleged victim's friends who said she had seen the teenager and Mr McPeake kiss in his car after one of his music classes they had both been to.
She said she told another friend at school who then told one of the girl's relatives who then spoke to the girl's mother.
The mother of the girl making the allegations told Belfast Crown Court on Monday that she had heard what is claimed to have happened, so asked Mr McPeake to come to her home where she confronted him.
She told the court: "I told him straight never, never go near my child again. She won't be back to classes."
She said Mr McPeake replied: "Ok, no worries'."