Peter Robinson says paper on Northern Ireland tax powers is prepared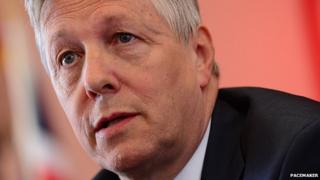 Peter Robinson has said the Finance Department is preparing a paper examining the costs and benefits of devolving taxes to Northern Ireland.
However, the first minister said transferring extra powers to Stormont is "no panacea" for Northern Ireland's wider economic difficulties.
Mr Robinson said devolving corporation tax was "doable and valuable".
He said transferring stamp duty, land tax and landfill tax may be doable but he was not convinced of the benefits.
The first minister told the assembly transferring VAT would give Stormont a lever to help hotels and restaurants but would incur considerable costs and lead to major difficulties with the European Union.
On the devolution of income tax, which is being considered for Scotland, Mr Robinson argued such a move would involve very considerable difficulty and cost.
A commitment to examine potential devolution of fiscal powers (tax and spending) was part of the economic pact agreed between the Northern Ireland executive and Downing Street in June last year.
NICVA and PWC published a report last year suggesting that the devolution of income tax would have the greatest impact on the executive's powers.
Welfare reform
Mr Robinson also said it was "imperative" a solution is found over the issue of welfare reform before fines imposed by the Treasury take effect.
Northern Ireland faces penalties for not endorsing welfare reforms passed by Westminster in February 2013.
Sinn Féin has led the opposition to the reforms.
Mr Robinson told the assembly on Monday that if £1bn is cut from the public spending budget it could bring the devolved administration down.
"It is absolutely imperative that we deal with the matters that are capable of bringing this assembly and executive down," the first minister said.
"We simply cannot tolerate a set of circumstances where £1bn is to be taken off our budget."