Fred McClenaghan 'admitted killing Marion Millican'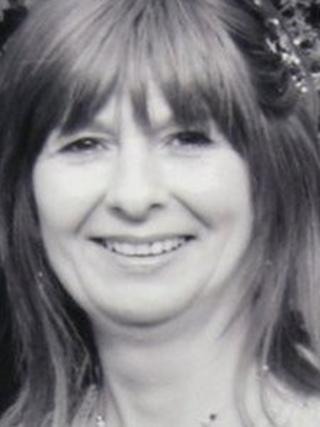 A man accused of murdering his former partner, admitted killing her, in the hours following the shooting, his trial has been told.
Fred McClenaghan, 52, denies murdering Marion Millican, 51, at the laundrette in Portstewart, County Londonderry, in March 2011.
He claims he shot her accidentally.
Antrim Crown Court, heard that following the shooting, Mr McClenaghan drove to the Kilrea home of the sister of another former partner.
Sheila Donnelly was in her office, where she worked as a manager of a Fold providing social housing and sheltered accommodation.
It was the first time she has seen him in around two to three years, and he asked to use the toilet.
"I thought he was a wee bit shaken and shocked looking," she told a prosecutor.
She said she asked him if anything was wrong, to which he replied that "he had shot a girl, he said he shot a girl in Portstewart."
Ms Donnelly said Mr McClenaghan, from Broad Street, Magherafelt, told her that the shooting had followed "a break-up with the girl from Christmas time".
He told her that he had gone to the launderette in the seaside town and said "he fired one shot that I thought it was in the air and then one into the lady herself".
Ms Donnelly had also been told there had been a struggle and that 51-year old Mrs Millican had grabbed the gun he was holding.
She said Mr McClenaghan said the gun "went off", then he added that he "took out of it" and that Mrs Millican had tried to get the gun from him.
"He said he had just wanted to talk to her," she added.
Ms Donnelly said Mr McClenaghan told her he had stayed with Mrs Millican "for a few moments" then left the premises.
Gun thrown into hedge
She said she became concerned for the older residents in the Fold, in case the shotgun "was still about", but was told that the weapon had been thrown away into a hedge.
Some time later, the witness said Mr McClenaghan received a telephone call and that she thought it was the police, who arrived at the Fold a short time later.
She also said she went outside to meet them and tell them there was no gun there.
Ms Donnelly said it was only after she heard one of the officers use the word 'murder' that she realised Mrs Millican was dead.
Later she also agreed with the defence that Mr McClenaghan had repeatedly said all he "wanted to do was talk" with Mrs Millican.
Forensic suit
One of the officers who arrested Mr McClenaghan told the court that without any prompting, the accused told him "that should be me lying there".
He also said that when putting a 'forensic suit' on him, Mr McClenaghan told them: "I'm saying it was me, there is no need for this", meaning the forensic suit.
Earlier the police officer told the court how Mr McClenaghan had directed them to a laneway on the outskirts of Ballymoney where he had dumped the shotgun.